Once-monthly dosing with GIVLAARI® (givosiran)1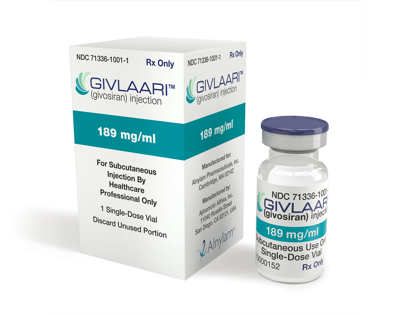 The recommended dose of GIVLAARI is 2.5 mg/kg administered by a healthcare professional via subcutaneous injection once monthly. Dosing is based on actual body weight.
Administer GIVLAARI as soon as possible after a missed dose. Resume dosing at monthly intervals following administration of the missed dose
Dose Modifications for Adverse Reactions
In patients with severe or clinically significant transaminase elevations, who have dose interruption and subsequent improvement, reduce the dose to 1.25 mg/kg once monthly


In patients who resume dosing at 1.25 mg/kg once monthly without recurrence of severe or clinically significant transaminase elevations, the dose may be increased to the recommended 2.5 mg/kg once monthly
GIVLAARI is administered via subcutaneous injection by a healthcare professional1
Ensure that medical support is available to appropriately manage anaphylactic reactions when
administering GIVLAARI


GIVLAARI is intended for subcutaneous use by a healthcare professional only
For detailed instructions on preparing and administering GIVLAARI, see full Prescribing Information.
Reference: 1. GIVLAARI [package insert]. Cambridge, MA: Alnylam Pharmaceuticals, Inc; 2019.